Arthur J. Rooney Field
Located high atop the Bluff in the center of the Duquesne University campus, Arthur J. Rooney Athletic Field is one of the most unique football facilities in the nation. Bordered by Academic Walk on one side and Mellon Hall of Science and the recently dedicated Keller Fieldhouse on either end, Rooney Field offers scenic views of downtown Pittsburgh, the Monongahela River and Pittsburgh's historic South Side.
Bolstered by a two-phase, $4 million renovation completed in 2011, the lighted, Sportexe turf-covered facility celebrates its 19th full-season anniversary in 2013.
The completion of Rooney Field - named in honor of Duquesne University football letterman and founder of the Pittsburgh Steelers National Football League team, Art Rooney - in 1993 enabled the Dukes to play football on campus for the first time since 1929.
Foresight and planning turned a former staff and faculty parking lot into what is now the focus of the Duquesne campus. The initial space limitations caused Rooney Field to be one of the few in college football that run east-to-west. Workers had to cut down approximately six feet to finish the playing surface. The excavation created both excellent sight lines and the terrace effect that allowed for concrete bleachers on the Academic Walk side of the field and grassy knoll on the Bluff Street side of the field.
The Rooney Field playing surface was also replaced with Sportexe synthetic turf prior to the 2008 season.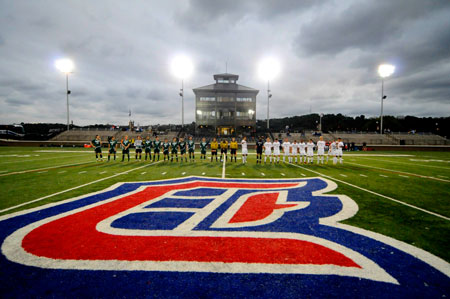 Palumbo Center
Located at the intersection of Forbes Avenue and Magee Street on the Northeast corner of the Duquesne campus, the Palumbo Center received a $1.8 million facelift in the summer of 2010 and $1.3 million of additional improvements in the form of the Janice and James Schaming Athletic Center completed in September of 2011. The practice gym also received a facelift in the summer of 2013.